"Our Tactical Laser Tag events have always turned out to be a hit. I am able to focus on the other birthday things, such as food/cake, while they entertain the kids. Worth every penny!" - The Ritz', Ruckersville VA

Party Package $299
(Mon-Thu = $249) + travel fee
90 Minutes of great laser tag action supervised by an experienced professional Game Master. With our respawn game types players get much more laser tag play in a shorter amount of time.
16 laser tag units for 16 players at a time. Up to 32 total players.
8-14 pop-up camo bunkers as needed for your playing area.
Add travel fee based on your location.
Add $40 for each additional 30 minutes.
Subtract $30 if bunkers not needed. (Over 95% of our parties use the bunkers)
Specials Available on Availability Calendar.
Best Laser Tag Parties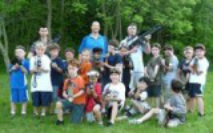 High tech equipment, player assistance, safety supervision, and officiating of games.
We do all the setup, supervision & pack up, to make things very easy for you.
Kids and adults alike love Tactical Laser Tag because it combines all the best parts of shooter video games, paintball action, and great fun with your friends.
Most games have players participating for the whole game, so no one has to sit out after being eliminated.
We offer pop-up bunkers to help maximize the fun with places to hide as you play.
Our unique games are great for youth, adults or any combination of both.
---
Party Format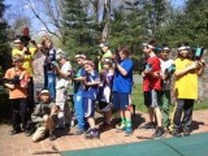 First 5-10 minutes is for instructions and gearing up the players.

Our games are typically around 10-15 minutes long, but could vary with objectives.

Players can change up equipment or take breaks as needed between games.

Most hosts arrange for food or cake before or after the laser tag. You may need a longer time slot if you want to take a long food break in the middle.

---
Game Types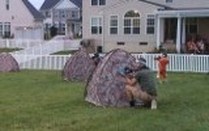 We only use the game types that are sure to be the most fun for all players.

These mission types have been perfected over thousands of parties before yours.

We use a progression of 3 or 4 game types for most parties, depending on what is best for your group of players and battlefield location.

Our Game Masters guide the process so there is no disagreement, only great fun.

---
PUBLIC PARKS
If you do not have a suitable yard for your party you might consider using a public park. Small neighborhood parks seem to work best.

The responsibility of making arrangements for use of the park belongs to the customer. We are not responsible if authorities shut down your party. This is very rare, but worth mentioning. We recommend that you seek permission to use the park, which may require a permit or pavilion rental.

We have set up at more than a hundred parks across several states. Here are some that have worked well: Wood Acres Park - Bethesda MD, CF Smith Park - Arlington VA, Temporary Rd Park - Reston VA, Fort Bayard Park - Washington DC, Jim Barnett Park - Winchester VA, Grand Caverns Park - Grottoes VA.