"Book with Tatical Laser Tag, you will not be disappointed!! They do a great job, they are very friendly and accomodating." - Columbia Country Club - Chevy Chase MD

16 Blaster Group Event Package $399
(Mon-Thu = $329) + travel fee

2 Hours of great laser tag action supervised by an experienced professional. (Pricing up to 8 hours provided below)
16 laser tag units for 16 players at a time. Unlimited number of total players.
8-14 pop-up camo bunkers as needed for your playing area.
Add travel fee based on your location.
Subtract $50 if bunkers not needed. (98% of group events use the bunkers)
Specials Available on Availability Calendar.
Longer time slots available and multiple day pricing available upon request:
2 Hours = $399 (Mon-Thu = $329)
2.5 Hours = $449 (Mon-Thu= $369)
3 Hours = $499 (Mon-Thu= $409)
4 Hours = $599 (Mon-Thu= $479)

5 Hours = $699 (Mon-Thu= $549)
6 Hours = $799 (Mon-Thu= $619)
7 Hours = $899 (Mon-Thu= $679)
8 Hours = $999 (Mon-Thu= $719)
Fantastic Group Laser Tag Events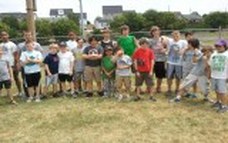 Excellent choice for all kinds of group events.
Also great as a marketing tool for drawing people to your event.
We bring all required equipment, perform all the set up, and provide supervision over the laser tag games.
Can be played indoors or outdoors using our pop-up camo bunkers.
Up to 16 players at a time, two teams of 8 players each (Game Master Rodney Only).
Game Masters John or Wesley: up to 10-12 players in play at a time.
Our Liability Insurance covers us everywhere we go.
---
Group Event Format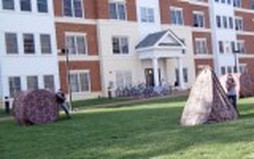 Game Master efficiently briefs and gears up each group.
Games should be 8-15 minutes long, plus time for swapping out players between games. (Adventure Gear & Extreme Gear = 12-20 minute time slots, Battle Gear = 20-25 minutes).
Deactivated players simply go to their base to be reactivated so everyone gets to play for the full game time.
We need access to the battlefield at least one hour before and after for setup/packup.
Most events are simply open play with no need for a tournament format, but you can pre-schedule the games ahead of time if it meets yours needs better.
Recommended number of hours based on total number of players (16 Blasters): 2 Hours = 33-120 players. 2.5 Hours = 40-150 players. 3 Hours = 60-180 players. 4 Hours = 80-240 players. 5 Hours = 100-300 players. 6 Hours = 150-400 players. 7 or 8 Hours = 200-500 players.
---
Colleges, Fraternities, Sororities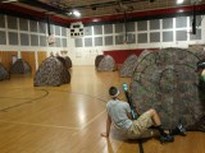 Perfect for colleges, whether massive group events, fraternities, sorrorities or mixers.

Some of the colleges that book Tactical Laser Tag:
James Madison University - University of Virginia - University of Maryland - North Carolina State University - Catholic University of America - George Washington University - Hampden Sydney College - Mary Baldwin College - Freed Hardman University - Lycoming College - Christopher Newport University - East Carolina University - Spring Hill College - Washington Adventist University - Temple University - Duke University - Georgetown University
---
Tactical Laser Tag is Also Great for
Schools - After Proms - Church Groups - Clubs - Sports Teams - Fairs - Parks & Rec Programs - Summer Camps - Company Picnics - Team Building Events
---